15′ x 26′ Oval 54″ Deep Deluxe Above Ground Pool Kit
15′ x 26′ Oval 54″ Deep Deluxe Above Ground Pool Kit (AG-PP-3333)
Description
15′ x 26′ Oval 54″ Deep Deluxe Above Ground Pool Kit
A 15′ x 26′ Oval 54″ Deep Deluxe Above Ground Pool Kit will be the cornerstone attraction to your backyard vacation area. Built using the latest top-of-the-line technology, the Deluxe is just that: a fresh new blend of good looks, great design, and long-lasting solidity. Easy to install and guaranteed for decades, this is a true investment in summer fun! Deluxe pool walls are resin-coated corrugated steel with a stainless steel access panel, providing protection against corrosion, gasket failure, and water leaks. 8″ Top Ledges and Uprights are both injection-molded, eliminating corrosion risks and guaranteeing long-term dependability. With Resin Top/Bottom rails, you can rest assured that adding a saltwater system won't damage your pool.
Features You Will Love!
54″ Steel Wall
9″ Resin Top Seat
16 Uprights – 6″ Resin
Resin Top & Bottom Track
Resin Top & Bottom Connectors
Stainless Steel Access Panel
Salt Water Approved
Installation Manual – Deluxe Installation Manual
Details You Will Love
Top Ledge
9″ injection-molded top ledge
Incorporates multi-ribbed supports for optimum stability
Features a sophisticated-looking metallic logo
Two-color contrast provides incredible style
Upright
6″ injection-molded upright, with extra depth for greater stability
Three-dimensional injection-molding means greater detail and solidity
Stylish metallic ring at the top of the upright
Narro Buttress System
Narrow Buttress System: Out buttresses are specifically designed to be almost invisible! This unique style of buttress will maximize yard space around the pool.
Bottom Snap-in Joiner Plate
Joiner plate attaches to uprights using a snap-in system, no hardware required!!
Smooth, quick installation into upright
Made of resin: solid and corrosion-proof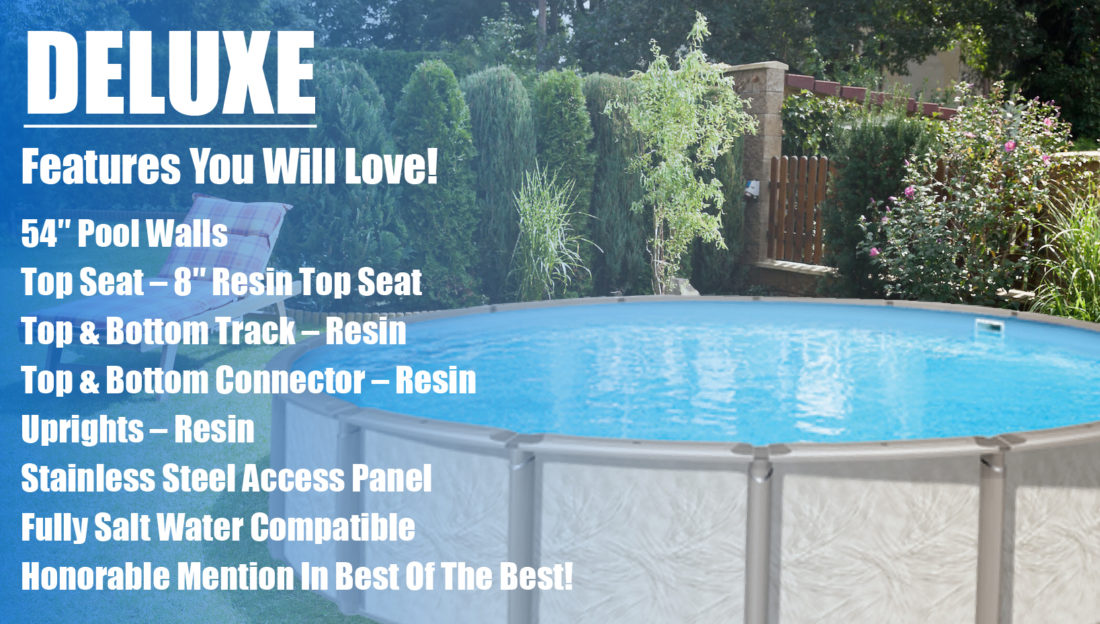 DO IT YOURSELF INSTALLATION!
If you're handy with a screwdriver, then you can easily assemble your own above ground pool kit! We've designed each pool to make installation problem-free — no multi-sized washers or nuts to worry about. Just one large screw type is used to assemble the entire pool and we provide easy-to-follow instructions.
WHAT'S INCLUDED
Our above ground pool kits include pool walls, top rails, bottom rails, and uprights. Please select your desired pump/filter, liner, ladder, PVC Piping, Fittings and any other accessories that might be needed to complete your swimming pool kit. Pool Warehouse carries only the best above ground pools! The final price indicated is the entire price to have your order delivered to your curb by common carrier truck delivery. The driver is not required to unload (although most will help) so you should have some help available to unload your order.
The Deluxe is not intended for diving. These above ground pool kits are designed for swimming only.
Best Above Ground Pools
Americas Favorite Source For Above Ground Pool Kits!
Additional information
| | |
| --- | --- |
| Google Product Category | Home & Garden > Pool & Spa > Swimming Pools |
| Pool Depth | 54" |
| Pool Shape | Oval |
| Brand | Deluxe |
| Material | Steel Pool Walls |
| Access Panel | Stainless Steel |
| Top Ledge | 8" Resin |
| Bottom Rail | Resin |
| Salt Water Compatible | Yes |
| Pool Size | 15' x 26' |
| Manufacturer | Wilbar Group |
Resources
Installation Instructions
---
---
Compare
| Model | Pretium | Ohana | Mt Loch | Sterling | Silver Sea |
| --- | --- | --- | --- | --- | --- |
| Wall Height | 52″ | 52″ | 52″ | 52″ | 52″ |
| Top Ledge | 6″ | 7″ | 6″ | 9″ | 9″ |
| Upright | 5″ | 5″ | 5″ | 7″ | 7″ |
| Bottom Rail | Steel | Steel | Steel | Steel | Steel |
| Salt Water Compatible | No | No | No | No | No |
| Warranty | 1/10 | 2/20 | 2/20 | 2/20 | 2/20 |
| | | | | | |
| Model | Century | Magnus | Regency | Deluxe | Dubai |
| --- | --- | --- | --- | --- | --- |
| Wall Height | 52″ | 54″ | 54″ | 54″ | 54″ |
| Top Ledge | 9″ | 7″ | 7″ | 8″ | 8″ |
| Upright | 7″ | 5″ | 6″ | 6″ | 6″ |
| Bottom Rail | Steel | Resin | Resin | Resin | Resin |
| Salt Water Compatible | No | Yes* | Yes | Yes | Yes |
| Warranty | 2/20 | 3/25 | 3/25 | 5/30 | 3/25 |
| | | | | | |
| Model | Lakeland | Mystique | Westport | Riviera | Zanzibar |
| --- | --- | --- | --- | --- | --- |
| Wall Height | 52″ | 52″ | 52″ | 48″ | 54″ |
| Top Ledge | 8″ | 8″ | 7″ | 4″ | 8″ |
| Upright | 8″ | 7″ | 7″ | 3″ | 8″ |
| Bottom Rail | Steel | Steel | Steel | Steel | Steel |
| Salt Water Compatible | No | No | No | No | No |
| Warranty | 2/20 | 2/20 | 2/20 | 2/20 | 2/20 |
| | | | | | |
| Model | Belize | Martinique | Brentwood | Tennessean |
| --- | --- | --- | --- | --- |
| Wall Height | 52″ | 52″ | 52″ | 54″ |
| Top Ledge | 6″ | 7″ | 7″ | 8″ |
| Upright | 8″ | 8″ | 7″ | 6″ |
| Bottom Rail | Steel | Steel | Resin | Resin |
| Salt Water Compatible | No | No | No | Yes |
| Warranty | 2/20 | 2/20 | 2/20 | 2/20 |
| | | | | |
Gallons Per Size