Sale!
15′ x 25′ Oval 54″ Deep Dubai Above Ground Pool Kit
15′ x 25′ Oval 54″ Deep Dubai Above Ground Pool Kit (CANC15265S)
Description
15′ x 25′ Oval 54″ Deep Dubai Above Ground Pool Kit
The Dubai above ground pool won best in class, best value, best design and best quality in our 54″ wall category. The Dubai is considered a "hybrid"  pool and is constructed to withstand the changing seasons and all that they bring. The beautiful 8″ resin ledge resists weather, water and wear. The durable 6″ steel uprights come equipped with unique interlocking two-piece resin caps that provide strength, support, and style.
Best of all the Dubai has Heavy-Duty RESIN TOP & BOTTOM Tracks!
We've added oversized RESIN Top Connectors, RESIN Bottom Connector/foot collar combination and oversized fasteners…the Dubai is really the best Above Ground Pools in its category!  With Resin features, you have a pool that will last a lifetime of summers. Best of all its fully Salt-Water Compatible! Customers also love the color co-ordinated Mist upright columns and matching top ledges that blend with nearly any landscape to provide a natural, comforting scene. This Dubai pool remains beautiful year after year, while it enhances the value of your property.
Features You Will Love!
54″ Hot Dipped Galvanized Steel Walls
Top Seat: 8″ Extruded Resin
10 Uprights: 6″ Steel
10 Buttress: Steel
Resin: Top & Bottom Tracks
Resin Top & Bottom Connectors
Color: Elegant Mist
Warranty: 3 Year Full; 25 Year Pro-Rated
Salt Water Compatible
"Best Value" Winner
Installation Manual – Dubai Installation Guide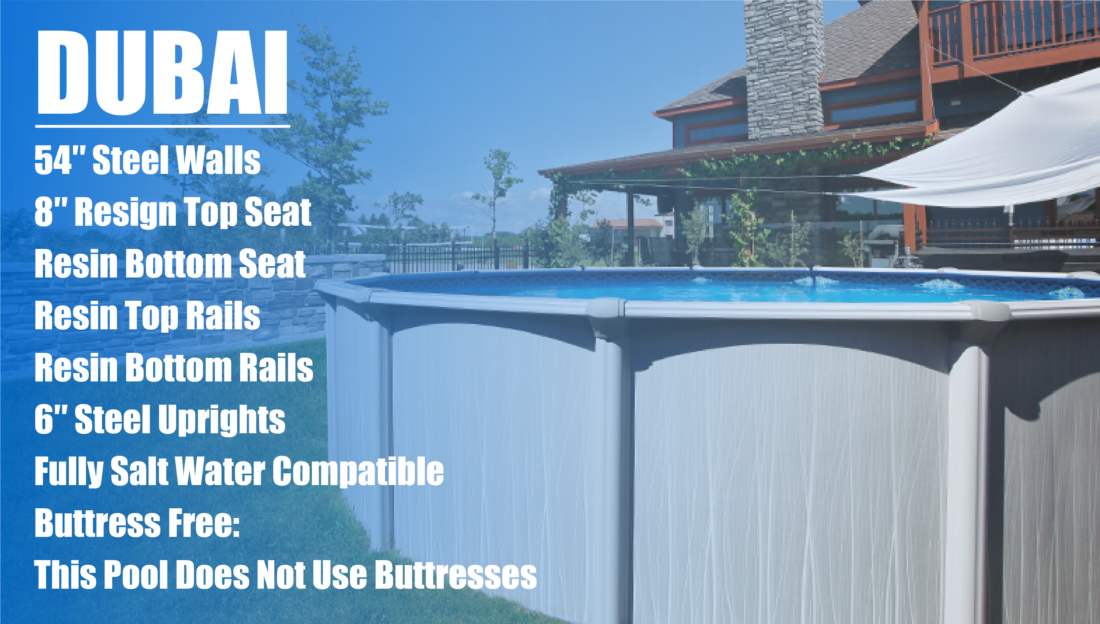 DO IT YOURSELF INSTALLATION!
If you're handy with a screwdriver, then you can easily assemble your own Dubai above ground pool kit! We've designed each pool to make installation problem-free — no multi-sized washers or nuts to worry about. Just one large screw type is used to assemble the entire pool and we provide easy-to-follow instructions.
WHAT'S INCLUDED
Our above ground pool kits include pool walls, top rails, bottom rails, and uprights. Please select your desired pump/filter, liner, ladder, PVC Piping, Fittings and any other Accessories that might be needed to complete your swimming pool kit. Pool Warehouse carries only the best above ground pools!
Free Shipping To 37 States On Above Ground Pool Kits!
The price indicated is the entire price to have your order delivered to your curb by common carrier truck delivery. The driver is not required to unload (although most will help) so you should have some help available to unload your order. Free shipping applies to 37 States in the continental USA.
Best Above Ground Pools
Americas Favorite Source For Above Ground Pool Kits!
Additional information
| | |
| --- | --- |
| Google Product Category | Home & Garden > Pool & Spa > Swimming Pools |
| Pool Depth | 54" |
| Pool Shape | Oval |
| Brand | Dubai |
| Material | Steel Pool Walls |
| Top Ledge | 8" Resin |
| Bottom Rail | Resin |
| Salt Water Compatible | Yes |
| Pool Size | 15' x 25', 15' x 26' |
| Manufacturer | Cornelius |
Installation & Warranty
Carton Details
Compare
| Model | Pretium | Ohana | Mt Loch | Sterling | Silver Sea |
| --- | --- | --- | --- | --- | --- |
| Wall Height | 52″ | 52″ | 52″ | 52″ | 52″ |
| Top Ledge | 6″ | 7″ | 6″ | 9″ | 9″ |
| Upright | 5″ | 5″ | 5″ | 7″ | 7″ |
| Bottom Rail | Steel | Steel | Steel | Steel | Steel |
| Salt Water Compatible | No | No | No | No | No |
| Warranty | 1/10 | 2/20 | 2/20 | 2/20 | 2/20 |
| | | | | | |
| Model | Century | Magnus | Regency | Deluxe | Dubai |
| --- | --- | --- | --- | --- | --- |
| Wall Height | 52″ | 54″ | 54″ | 54″ | 54″ |
| Top Ledge | 9″ | 7″ | 7″ | 8″ | 8″ |
| Upright | 7″ | 5″ | 6″ | 6″ | 6″ |
| Bottom Rail | Steel | Resin | Resin | Resin | Resin |
| Salt Water Compatible | No | Yes* | Yes | Yes | Yes |
| Warranty | 2/20 | 3/25 | 3/25 | 5/30 | 3/25 |
| | | | | | |
| Model | Lakeland | Mystique | Westport | Riviera | Zanzibar |
| --- | --- | --- | --- | --- | --- |
| Wall Height | 52″ | 52″ | 52″ | 48″ | 54″ |
| Top Ledge | 8″ | 8″ | 7″ | 4″ | 8″ |
| Upright | 8″ | 7″ | 7″ | 3″ | 8″ |
| Bottom Rail | Steel | Steel | Steel | Steel | Steel |
| Salt Water Compatible | No | No | No | No | No |
| Warranty | 2/20 | 2/20 | 2/20 | 2/20 | 2/20 |
| | | | | | |
| Model | Belize | Martinique | Brentwood | Tennessean |
| --- | --- | --- | --- | --- |
| Wall Height | 52″ | 52″ | 52″ | 54″ |
| Top Ledge | 6″ | 7″ | 7″ | 8″ |
| Upright | 8″ | 8″ | 7″ | 6″ |
| Bottom Rail | Steel | Steel | Resin | Resin |
| Salt Water Compatible | No | No | No | Yes |
| Warranty | 2/20 | 2/20 | 2/20 | 2/20 |
| | | | | |
Gallons Per Size