12′ x 24′ Oval 52″ Deep Pretium Above Ground Pool Kit
12′ x 24′ Oval 52″ Deep Pretium Above Ground Pool Kit (PPREGLX-CH122452SSSTSSFB0)
Description
12′ x 24′ Oval 52″ Deep Pretium Above Ground Pool Kit
A 12′ x 24′ Oval 52″ Deep Pretium Above Ground Pool Kit will be the cornerstone attraction to your backyard vacation area. Everyone surrounding and enjoying the Pretium will stand (or swim) amazed at the strength and integrity of the pool.
The pool walls are corrugated for increased durability and resistance to ice and impact damage. Features self-supporting omega stabilizer bar developed to simplify homeowner installation. Pretium's unique quadra-fold system and bolting pattern provide maximum wall joint strength. The top ledges and uprights undergo a state of the art protective treatment process, in addition, they are coated with Texture-Kote. This combination provides incredibly long lasting all weather protection with added resistance against corrosion, scratching and damaging UV rays. Put some fun and enjoyment back into your yard. The Pretium above ground pool is one of the cheapest family vacations around.
Features You Will Love!
52″ Walls
Top Seat – 6″ Texture Coat Top Seat
Top Track – Steel
Top Connector – Steel
Bottom Track – Steel
Bottom Connector – Steel
16 Uprights – 5″ Steel
Installation Manual – Pretium Installation Manual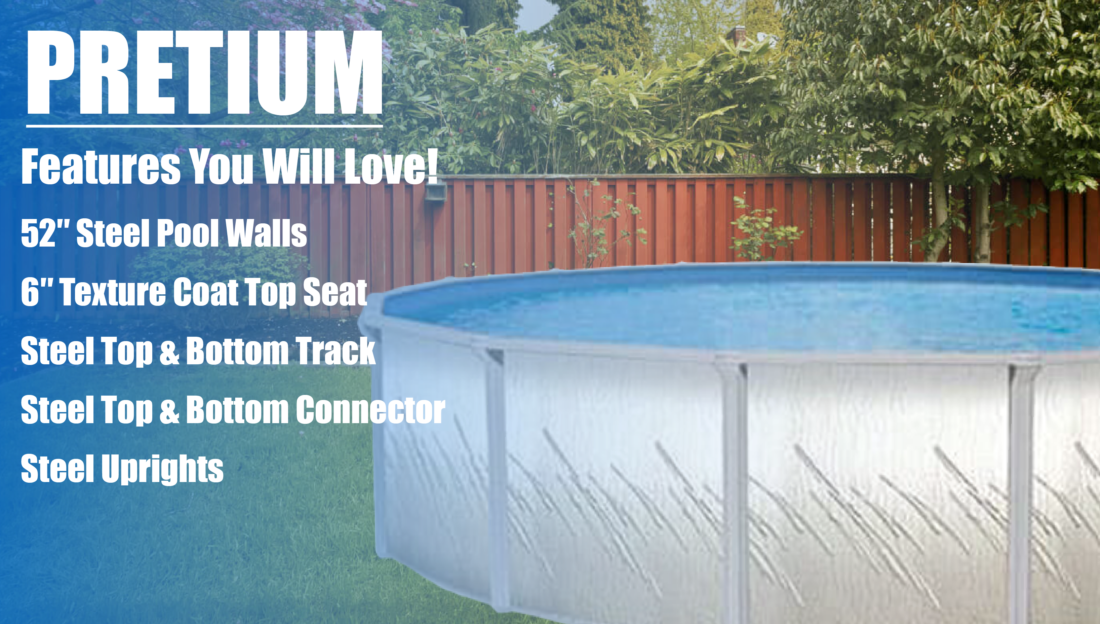 DO IT YOURSELF INSTALLATION!
If you're handy with a screwdriver, then you can easily assemble your own above ground pool kit! We've designed each pool to make installation problem-free — no multi-sized washers or nuts to worry about. Just one large screw type is used to assemble the entire pool and we provide easy-to-follow instructions.
WHAT'S INCLUDED
Our above ground pool kits include pool walls, top rails, bottom rails, and uprights. Please select your desired pump/filter, liner, ladder, PVC Piping, Fittings and any other Accessories that might be needed to complete your swimming pool kit.
The Pretium is not intended for diving. These above ground pool kits are designed for swimming only.
Pool Warehouse carries only the best above ground pools!
Free Shipping To 37 States On All Above Ground Pool Kits!
The price indicated is the entire price to have your order delivered to your curb by common carrier truck delivery. The driver is not required to unload (although most will help) so you should have some help available to unload your order. Free shipping applies to 37 States in the continental USA.
Best Above Ground Pools
Americas Favorite Source For Above Ground Pool Kits!
Additional information
| | |
| --- | --- |
| Google Product Category | Home & Garden > Pool & Spa > Swimming Pools |
| Pool Depth | 52" |
| Pool Shape | Oval |
| Brand | Pretium |
| Material | Steel Pool Walls |
| Top Ledge | 6" Steel |
| Upright | 5" Steel |
| Bottom Rail | Steel |
| Pool Size | 12' x 24' |
| Manufacturer | Wilbar Group |
Resources
Installation Instructions
---
---
Compare
| Model | Pretium | Ohana | Mt Loch | Sterling | Silver Sea |
| --- | --- | --- | --- | --- | --- |
| Wall Height | 52″ | 52″ | 52″ | 52″ | 52″ |
| Top Ledge | 6″ | 7″ | 6″ | 9″ | 9″ |
| Upright | 5″ | 5″ | 5″ | 7″ | 7″ |
| Bottom Rail | Steel | Steel | Steel | Steel | Steel |
| Salt Water Compatible | No | No | No | No | No |
| Warranty | 1/10 | 2/20 | 2/20 | 2/20 | 2/20 |
| | | | | | |
| Model | Century | Magnus | Regency | Deluxe | Dubai |
| --- | --- | --- | --- | --- | --- |
| Wall Height | 52″ | 54″ | 54″ | 54″ | 54″ |
| Top Ledge | 9″ | 7″ | 7″ | 8″ | 8″ |
| Upright | 7″ | 5″ | 6″ | 6″ | 6″ |
| Bottom Rail | Steel | Resin | Resin | Resin | Resin |
| Salt Water Compatible | No | Yes* | Yes | Yes | Yes |
| Warranty | 2/20 | 3/25 | 3/25 | 5/30 | 3/25 |
| | | | | | |
| Model | Lakeland | Mystique | Westport | Riviera | Zanzibar |
| --- | --- | --- | --- | --- | --- |
| Wall Height | 52″ | 52″ | 52″ | 48″ | 54″ |
| Top Ledge | 8″ | 8″ | 7″ | 4″ | 8″ |
| Upright | 8″ | 7″ | 7″ | 3″ | 8″ |
| Bottom Rail | Steel | Steel | Steel | Steel | Steel |
| Salt Water Compatible | No | No | No | No | No |
| Warranty | 2/20 | 2/20 | 2/20 | 2/20 | 2/20 |
| | | | | | |
| Model | Belize | Martinique | Brentwood | Tennessean |
| --- | --- | --- | --- | --- |
| Wall Height | 52″ | 52″ | 52″ | 54″ |
| Top Ledge | 6″ | 7″ | 7″ | 8″ |
| Upright | 8″ | 8″ | 7″ | 6″ |
| Bottom Rail | Steel | Steel | Resin | Resin |
| Salt Water Compatible | No | No | No | Yes |
| Warranty | 2/20 | 2/20 | 2/20 | 2/20 |
| | | | | |
Gallons Per Size