Mountain Loch Above Ground Pool Kits
Mountain Loch Above Ground Pool Kits
Our Mountain Loch won best in class, best value, best design and best quality in our 52″ wall category for the Best Above Ground pool of 2019! From the heavy gauge steel walls to the hot-dip galvanized steel components, you know from the first tough that this pool is cut above the rest. Additionally after the hot-dip galvanization process all compotes are given additional weather protection by the application of a Polyester "Weatherizer" paint coating. Finally an attractive pattern is added to the walls and then sealed with our resilient Krystal Kote® coating, which provides an extra barrier from the elements and pool chemicals.
The Mountain Loch has the Best Quality, Best Value & Best Design in it's class!
The cognac-colored pool frame includes a 6″ steel ledge and 5″ steel upright post, each protected with polyester paint and clear Krystal Kote® topcoat. NEW two-piece injection molded high impact Resin caps and injection molded high impact Resin post collar complete the structure. The sub-frame consists of Double-Rolled Steel Tracks joined with large, heavy gauge connectors and oversized hardware. The Mountain Loch is the 2nd pool to make our Best Above Ground Pools list!
Features You Will Love!
52″ Walls
Top Seat – 6″ Galvanized Steel
Seat Cap – Resin
Top Track – Galvanized Steel
Bottom Track – Galvanized Steel
Bottom Connector – Galvanized Steel
Uprights – 5″ Galvanized Steel Uprights
Details You Will Appreciate!
16 Uprights
Buttress – This Pool Models Do Not Use Buttresses!
Elegant Cognac Colored Walls!
Best Of The Best Category Winner!
Installation Manual – Mt. Loch Assembly Instructions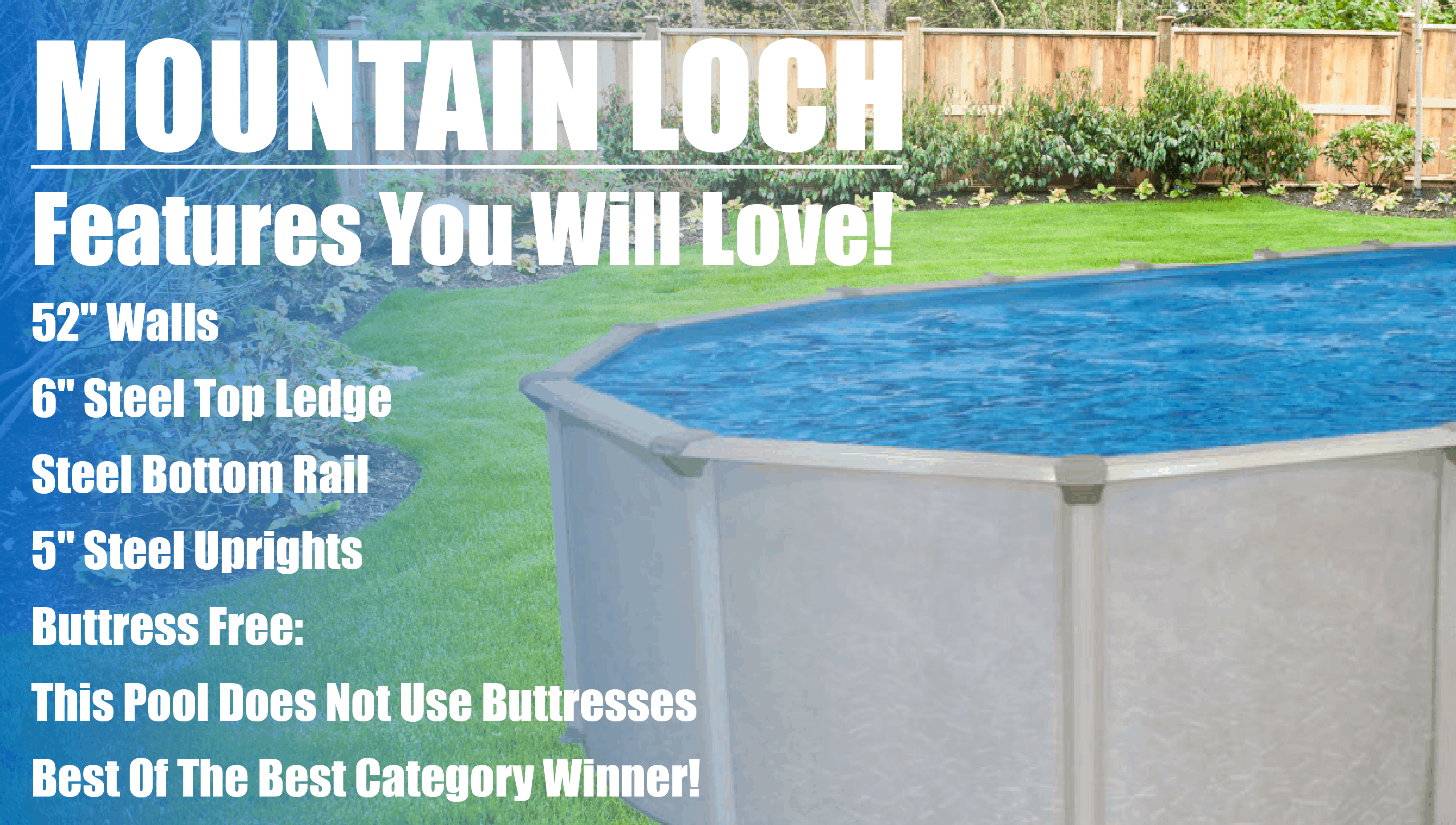 DO IT YOURSELF INSTALLATION
If you're handy with a screwdriver, then you can easily assemble your own Mt. Loch above ground pool kit! We've designed each pool to make installation problem-free — no multi-sized washers or nuts to worry about. Just one large screw type is used to assemble the entire pool and we provide easy-to-follow instructions.
WHAT'S INCLUDED
Our above ground pool kits include pool walls, top rails, bottom rails, and uprights. Please select your desired pump/filter, liner, ladder, PVC Piping, Fittings and any other Accessories that might be needed to complete your swimming pool kit. Pool Warehouse carries only the best above ground pools!
Free Shipping To 37 States On All Above Ground Pool Kits!
The price indicated is the entire price to have your order delivered to your curb by common carrier truck delivery. The driver is not required to unload (although most will help) so you should have some help available to unload your order. Free shipping applies to 37 States in the continental USA.
Best Above Ground Pools is your #1 Resource for Ratings on Above Ground Pools!